Get Down & Dirty with Outlaw Pottery!
The Outlaws began teaching pottery classes in 2009 when they founded the first pottery instruction program at a fully equipped public pottery studio in the infamous Catawba Valley Pottery region of North Carolina, where Rosalie was raised. Native Floridian Jason and his family returned to their beloved Florida in 2012. At Outlaw Pottery School in Cocoa, FL, we have perfected a fun, positive, high-quality, hands-on pottery program offering both wheel-throwing and hand-building pottery classes.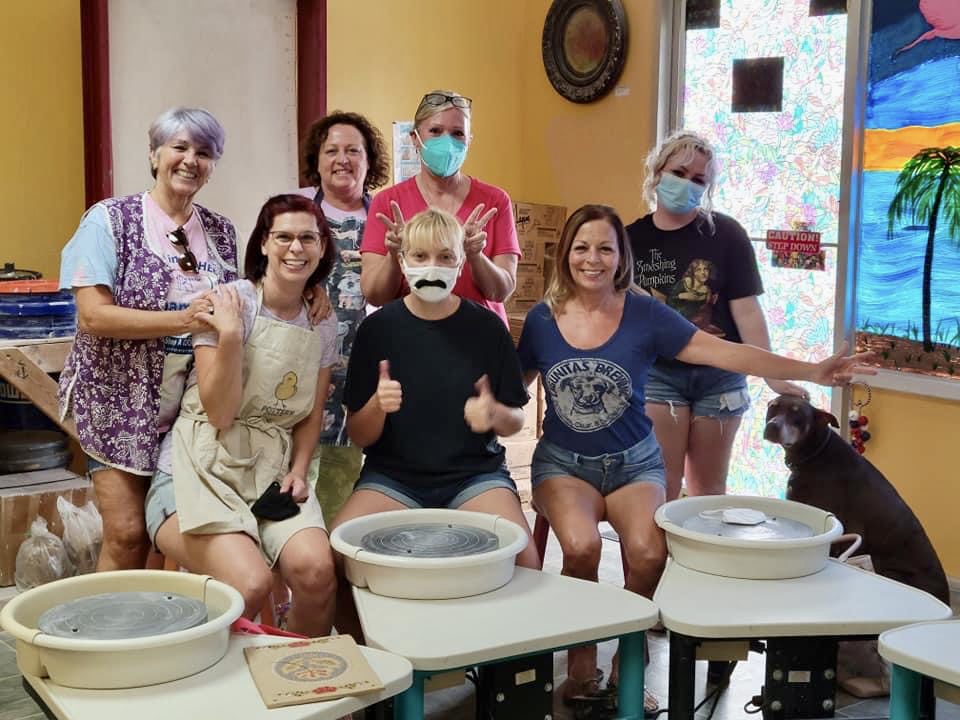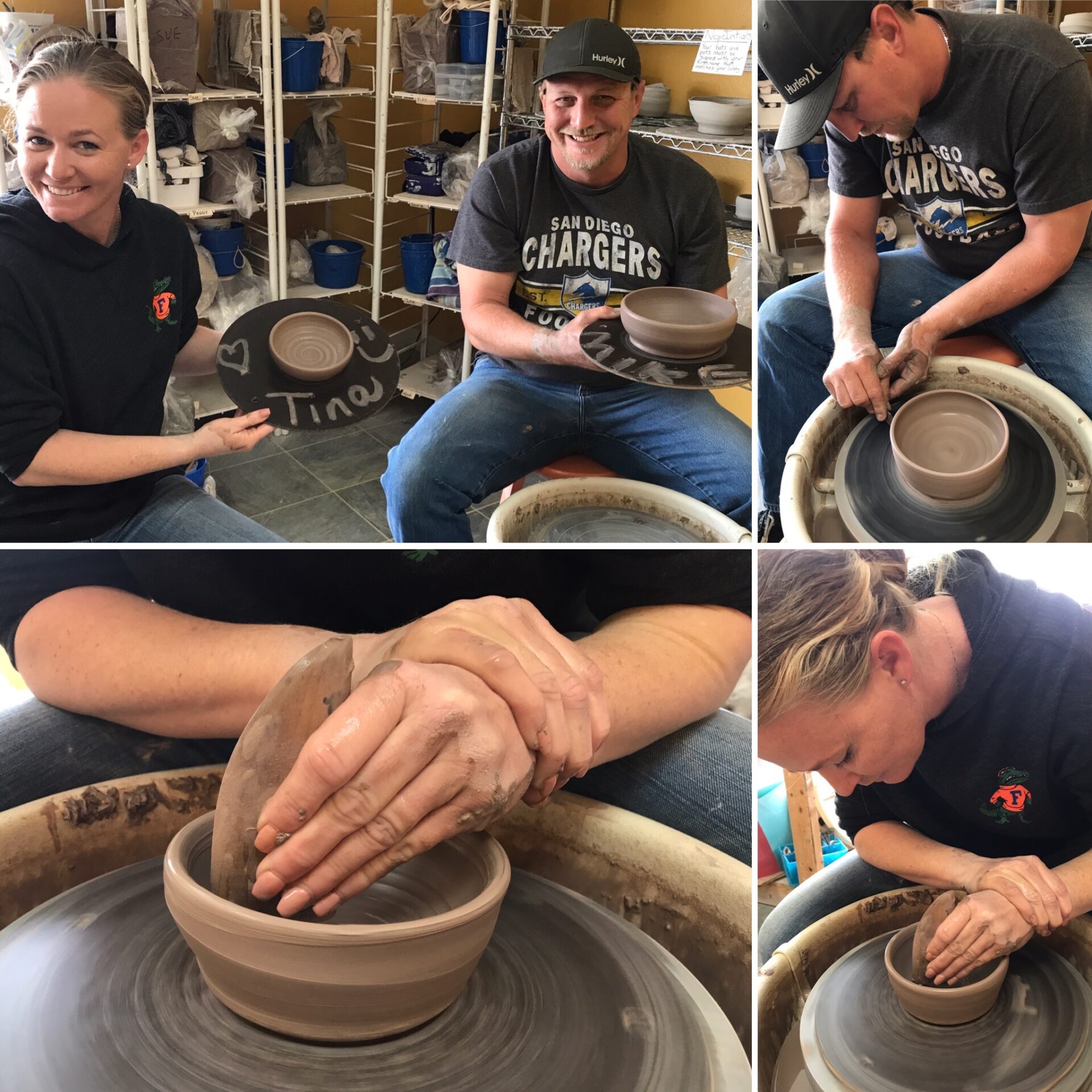 Discover Your Inner Potter
What Outlaw Pottery School Offers You:
A fun environment in a professional pottery studio where you can relax, laugh, and unleash your inner artist in a supportive learning environment. Really want to relax? Adults, feel free to bring in your favorite bottle of wine!
Small class sizes (only 10 students per wheel class) for personal attention.
A large spectrum of beautiful glazes and engobes to choose from.
Top-of-the-line professional-grade wheel-throwing and hand-building pottery equipment available to all of our students to ensure that your pottery creations know few bounds:
Brand new Pacifica pottery wheels
Exclusive easy to use Vertical Slab Roller
Slump, hump, and sprig molds
Stamps and texture tools
5 Digital Kilns
Weekly ongoing pottery classes on a month-to-month basis so you can get down and dirty with Outlaw Pottery year-round without skipping a beat.
Weekly Wheel-Throwing Pottery Classes for Adults
10-Week Session
Whether you have never touched clay or you took a pottery class a years ago, we start everyone off with a customized 10 week session when you become a student at Outlaw Pottery School.
If you are an Intermediate Potter, we will tailor the 10 week session to your experience level after showing you the tried and true Outlaw Pottery School wheel-throwing methods.
If you are a beginner with no experience, we will teach you how to transform balls of clay into bowls, cups and planters on the pottery wheel. Students will learn wedging, centering, pulling, trimming and dip glazing during this session. This class is also good for those who have tried pottery before but need a refresher course. Make no bones about it, throwing pots is challenging. But we make it fun, and our program is designed to give you personal attention because our classes are relatively small. We also mix you into an ongoing class with more experienced students who don't need as much attention as beginners do. They also love to offer help to new students because they remember what it was like to be a beginner too.
The 10 week session is 10 consecutive calendar weeks. Each class is two hours long and occurs on the same day/time each week. If you miss a class, there are no make-up classes during your initial 10 week session. However, since your 10 week session is tailored to your skill level, if you miss a class you don't fall behind. It's not like taking a college class; more like taking a yoga class. You just pick up where you left off the previous week. That being said, you can not miss week 1 or 2 when you are learning the steps of wheel-throwing or weeks 9 or 10, which are your dip glazing weeks. Tuition and materials fees are non-refundable.
Once you "graduate" from the 10 week session, you may pay for classes on a monthly basis—paying for the month ahead by the last week of the current month. Each month we teach a special project to broaden your skills and inspire you artistically. Previous projects have included mugs, serving bowls, lidded casseroles and sugar jars, genie bottles, tea pots, face jugs, hand-built fish, leaf platters, decorative wall hangings, ornaments, vases, pitchers, flower pots, utensil holders, wine chillers, fairy houses, luminaries, candle holders, gingerbread houses, snowmen, Christmas trees, jack-o-lanterns and pumpkins, chimes, garden totems, garlic roasters, butter dishes, salt pigs, brie bakers, berry colanders, pet food bowls, spoon rests… the list goes on and on. We are always trying something new and creative.
Weekly Wheel-Throwing Class Schedule:
• Tuesdays 2:30 – 4:30 PM
• Tuesdays 5:00 – 7:00 PM
• Tuesdays 7:30 – 9:30 PM
• Wednesdays 1:00 – 3:00 PM
• Wednesdays 3:30 – 5:30 PM
• Wednesdays 6:00 – 8:00 PM
10 Week Session Tuition and Materials
• $400.00 for 10-week session tuition
• $40.00 for Materials Fee (includes one 25 lb bag of clay, one bisque kiln firing, one glaze kiln firing and dip glazes)
• $40.00 for Pottery's Pail Deluxe Tool Kit (includes one 2.5 qt. durable plastic water bucket with steel handle, one 1 qt. durable plastic tool bucket, one 1 qt clean-up fresh water bucket and clean-up sponge, Potters Tool Basic Tool Kit with round sponge, wooden rib tool, long wooden trim tool, aluminum scraper, large loop trimming tool, double sided small loop tool, heavy duty needle tool, clay cut off wire, clean up rag.)
$430 Total for Class, Materials and Tools
Aprons: Many students also like to bring their own apron to wear during class; and others do not. It's up to you. Pottery is messy. Wear comfortable clothes you don't mind messing up.
All pots are lab certified food-safe. Our stoneware pottery is microwave and dishwasher safe, and even oven safe when you put the pottery into a cool oven (not pre-heated) and then turn the oven on.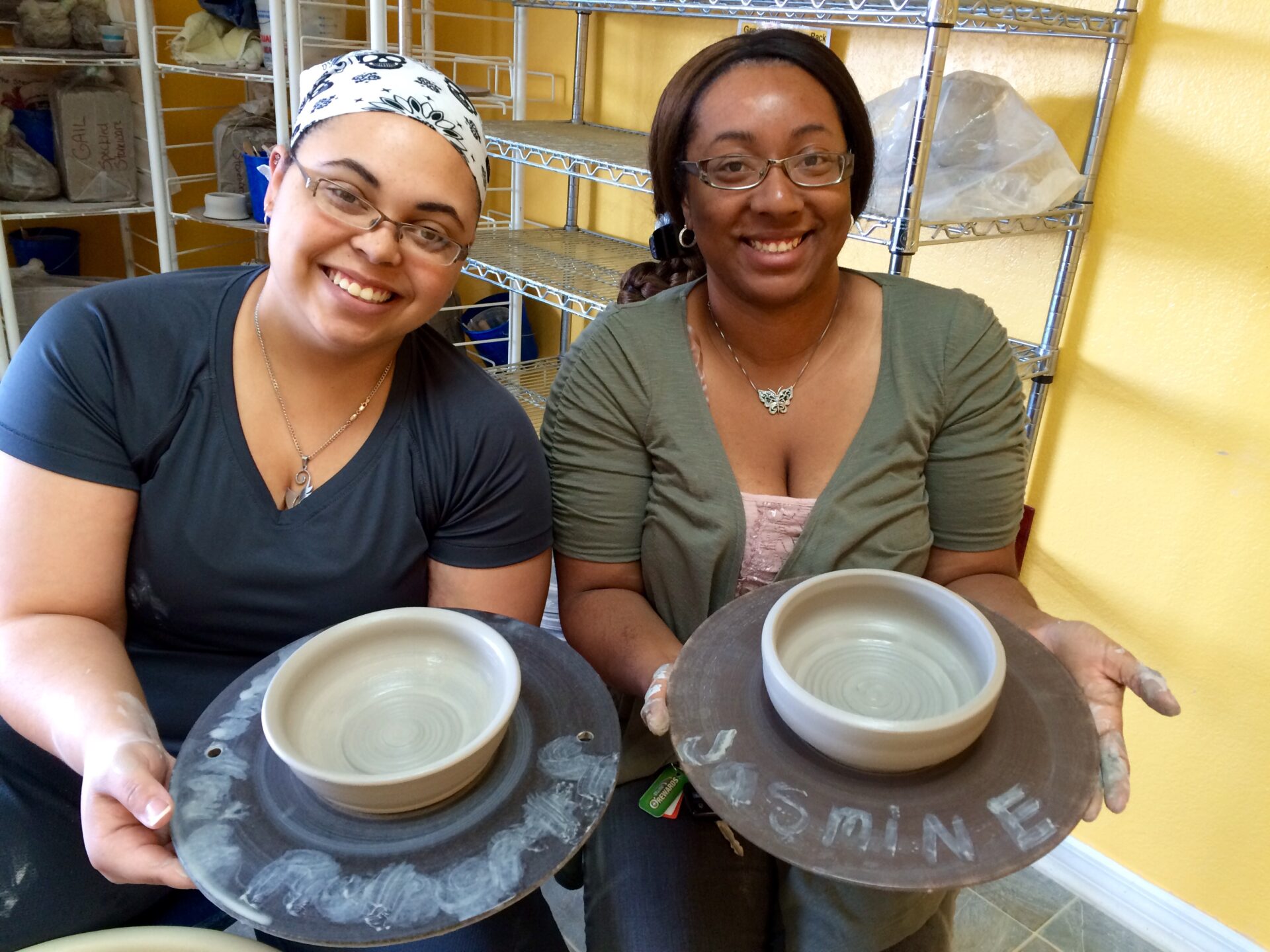 HOW TO SIGN UP FOR A 10-WEEK SESSION FOR ADULTS
Are you ready to get your hands dirty? All classes require pre-registration with payment to secure your spot. We have 10 wheels available in all 6 of our classes. You literally pay for a spot in one of those two-hour classes each week. Your payment ensures that a seat is reserved for you. We don't overbook classes, so please contact us first to inquire about availability. Then, we will schedule you for a brief tour and orientation at Outlaw Pottery school to make sure we are a good fit for one another. And we will go from there to schedule your session.
If you are 18 or older and would like to inquire about registering for a 10-week session, please use the Contact Us form.
2-Hour Play in the Clay Private Session
Outlaw Pottery School offers something for everyone from ages 7 to 107. If weekly classes don't fit your schedule or you are looking for a fun one-day experience to share with family and friends, try one of our private pottery sessions. We offer two-hour Play in the Clay hand-building pottery sessions or wheel-throwing sessions for groups of 2 to 10.
Upon making your appointment, you will select either wheel-throwing or hand-building for your group. During the session, you will make the pot from fresh, wet clay under the private instruction of our pottery teacher. You will choose a glaze color for your pot(s) at the end of class. Once dried and bisque fired, our potters will glaze your creation in the glaze color of your choice. Optional: bring your own apron. Your clothes will get dirty.
All pots are lab-certified food-safe. Our stoneware pottery is microwave and dishwasher safe, and even oven safe when you put the pottery into a cool oven (not pre-heated) and then turn the oven on.
Play in the Clay private sessions make a great date, friends' afternoon out, or family fun.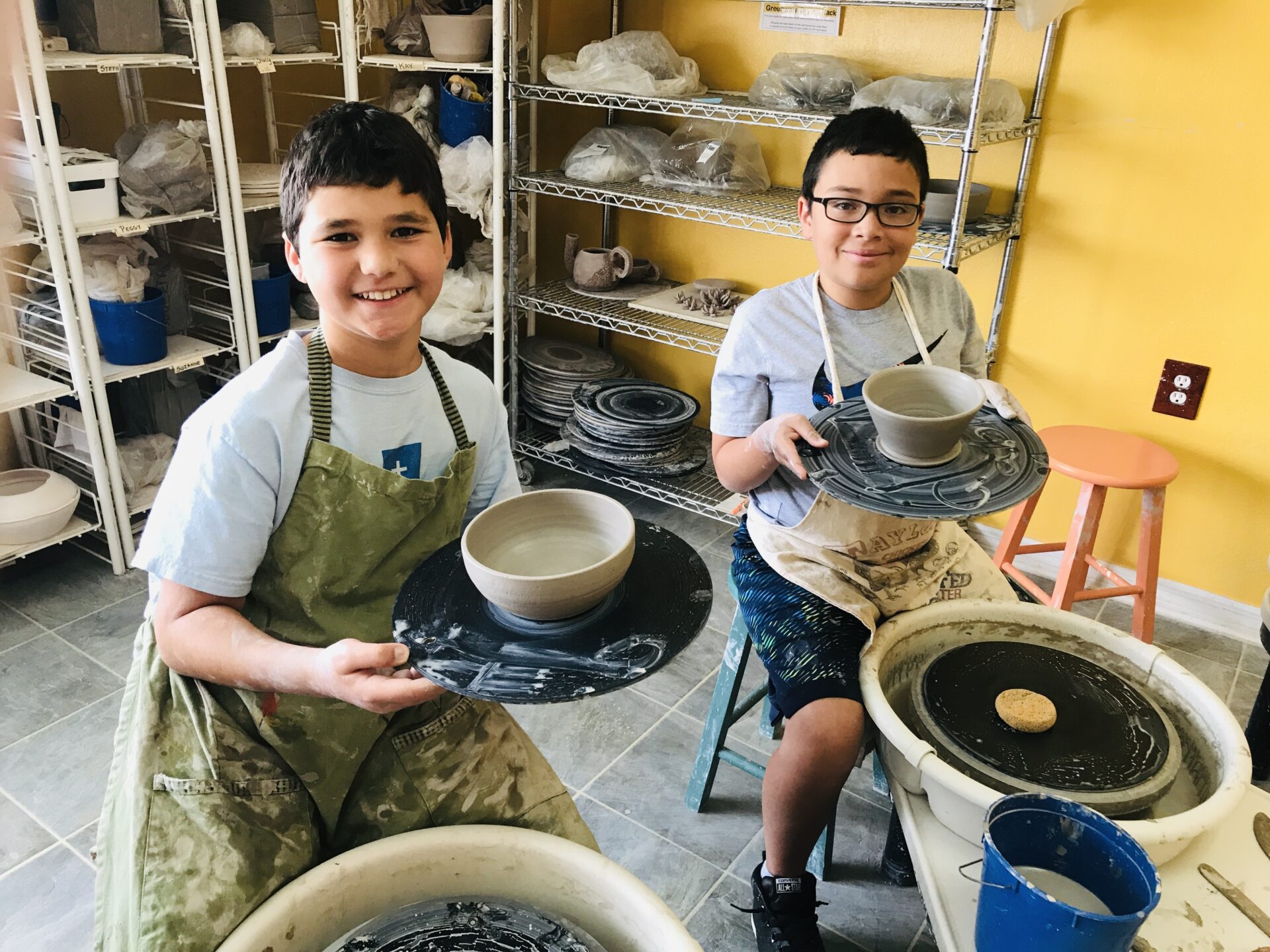 The session is $125 per person with a minimum of 2 people for the two-hour private lessons. Price includes materials, instructor set-up, two-hour private instruction, clay, two kiln firings, our staff glazing in your selected color and use of tools, as well as the trimming, signing, bisque firing, washing, wax, glazing, and firing in the 5–6 weeks after the lesson. We schedule private sessions on Thursdays, Fridays, or Saturdays by appointment. Most of our class times will fill up weeks in advance, so don't wait until the last minute. 
What is the difference between hand-building and wheel throwing?
Hand-Building: For hand-building pottery, we sit at tables and primarily use clay slabs to construct a handmade pot. Hand-building pottery projects will yield a cup, mug, small platter, vase, utensil holder, luminary, wine chiller, or wall hanging the first time. Soft clay slabs are formed and decorated into the desired shape using hand-building pottery techniques such as slab, coil, molding, and sculpture. You can use stamps or texture tools to decorate your pot.
What Can You Make? Your professional pottery teacher will help you select a project that fits your skill level and the confines of the science of clay. Keep in mind that it takes decades of experience to be able to make certain types of clay sculptures you may have seen on Pinterest or pottery TV shows or social media. Your project will be determined by your skill level, what can be created in a two-hour time slot, your group's dynamics, and what is realistic within the confines of the science of creating and firing real stoneware pottery. Come with an open mind ready to learn and have fun as you get down and dirty with Outlaw Pottery.
Wheel-Throwing: Throwing on the pottery wheel, as with any art form, isn't as easy as it looks, but our private pottery sessions focus on hands-on techniques to help you make a pot or two. Rosalie Outlaw likes to describe wheel-throwing as one-third sport, one-third science, and one-third art. Throwing will require you to get a little muddy in your quest for cylindrical perfection. There is no way to learn how to throw pots in only one two-hour session. It takes 10 weeks just to learn the basics of how to wheel-throw pottery, and then our weekly wheel-throwing students take classes for years and years. Like learning to play golf or the guitar, your first two-hour lesson simply gives you a taste of what it's like to throw pottery on the wheel. And it's really cool!
Whether you take one class for a date or afternoon outing or come back frequently to learn more, our wheel-throwing private lessons are a fun experience. All of our students complete at least one piece of pottery (cylinder or bowl) during their first two-hour lesson. Most complete two pots—generally soup/cereal bowls—in their first session.
We offer group programs in either hand-building or wheel-throwing pottery for groups of up to 10 people. Tuition is the same as above: $125 per person